Doctors: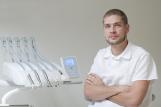 MUDr. Miroslav Reňák
Practition dentist
Specialization
Prosthetics, Surgery, Implantology
Study
SS-SZŠ and VZŠ Karlovy Vary

Dental Technician

University

Faculty of Medicine, Charles University in Pilsen
Experience gained by the renowned dental clinic in Prague.
With knowledge and experience in the field of dental techniques to ensure the maximum precision dental treatment, a sense of aesthetics and top-quality.
Striving for maximum comfort and painless treatment is commonplace.
Assisted by: Lenka Štíchová
Our nurse has many years of experience as a dental assistant.